Honda Auto Service Near Southlake TX | Warranty Repair | A Service | B Service | Oil Change
Honda
vehicles are built to some of the most precise standards in the automobile industry.  Every part on a Honda automobile is designed to work in unison with the rest of the vehicle to provide many miles of service. While the Honda automobile has some of the lowest maintenance requirements in the industry, there are a few items that are critical to maintain in good working order, or need routine attention to keep you Honda Accord, Civic, Fit, Insight, CR-V, Odyssey, Pilot, or Ridgeline running like it did the day you took it home. The Honda Maintenance Minder will provide you with a guide to required maintenance at the proper interval.
The oil is the life blood of your Honda. The Honda Maintenance Minder will display remaining oil life as a percent (%). Once your Honda displays 30% oil life remaining you should consider setting an appointment with Huggins Honda to get the oil changed. This minimizes the build up of sludge in the engine and extends life when done at proper intervals. Huggins Honda will not only use the proper grade of high quality oil, the technician will install a high quality Honda oil filter. Oil filters vary widely by quality. An oil filter is graded by the smallest particle of dirt it will catch, usually referred to as a "Micron". Use of a cheap oil filter, which many oil change stations use routinely will shorten the life of the timing chain installed in your Honda engine. The larger particles of dirt they pass will cause the timing chain to stretch and at some point, fail. Timing chain failure can be catastrophic, causing severe engine damage. If the timing chain stretch is heard, usually noisier engine operation referred to as timing chain slap by some, the repair and replacement of the timing chain could exceed $1000.  Use of a genuine Honda oil filter that Huggins Honda installs will help ensure the timing chain will last as long as you own your Honda, assuming oil change intervals are kept to factory recommendations or better. Huggins will also replace the Honda crush washer on the drain plug that most oil change stations rarely change. This washer is critical to preventing an oil leak from your Honda.
The Honda Maintenance Minder will usually display an A or B when service is needed, and most times will display a number. Use of the Honda Maintenance Minder chart below will help you to understand what each letter and number means. Please note that Huggins Honda recommends you replace your oil filter at each oil change. Otherwise you will leave a significant amount of dirty oil in your engine. See the Chart Below: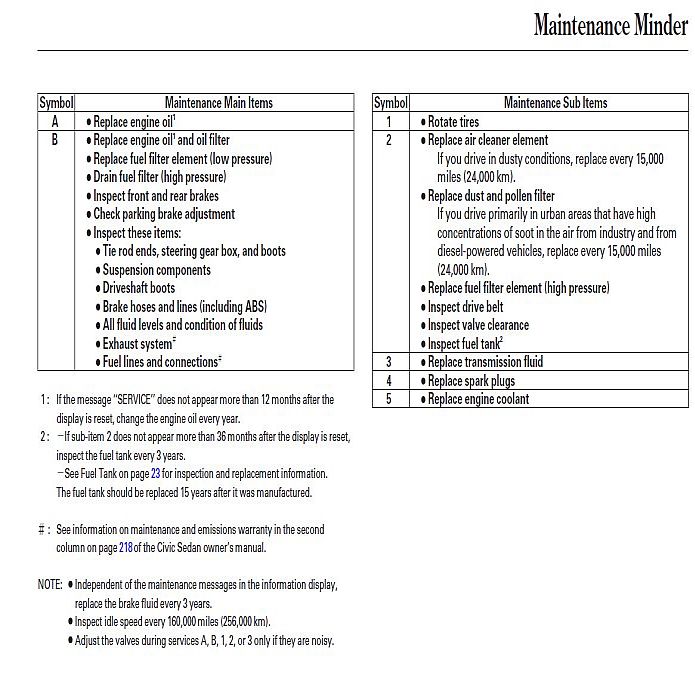 One of our friendly Service Advisers here at Huggins Honda will be happy to help you set up a schedule to get your Honda serviced and maintained in top condition. We perform a safety inspection of your Honda each time the oil is changed. Huggins Honda can help you keep one of your biggest investments running like new for a long time. Our
Honda Dealership
Service Department
near Southlake Texas is committed to you, our valued customer. Call today to schedule an appointment for a oil change, warranty work, or just Honda A or B maintenance. We will get your Honda serviced properly and back on the road in no time at all.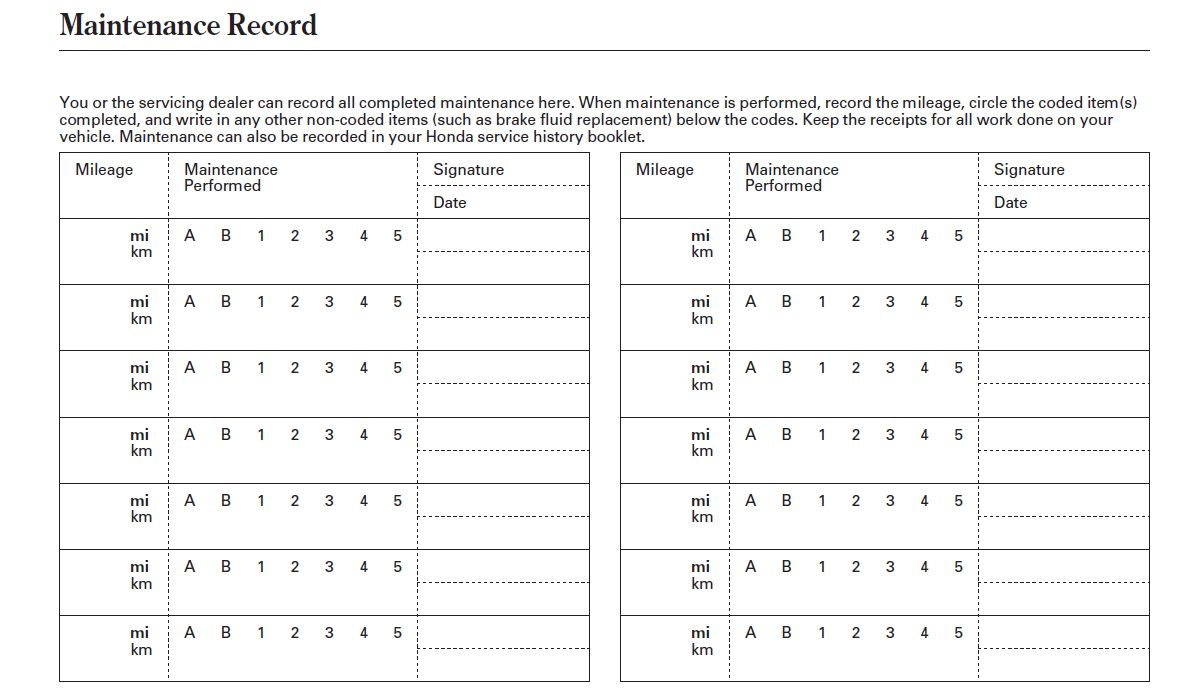 Sales Hours
Monday

8:30am-9:00pm

Tuesday

8:30am-9:00pm

Wednesday

8:30am-9:00pm

Thursday

8:30am-9:00pm

Friday

8:30am-9:00pm

Saturday

8:30am-8:00pm

Sunday

Closed